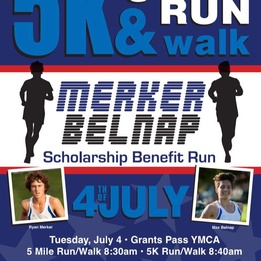 Name:
Merker/Belnap Memorial Walk/Run-2019
Time: 7:30 AM – 11:00 AM PDT
The Merker/Belnap Memorial Walk/Run was established last year to honor John, Max and Ryan and to raise funds for an annual college scholarship to be awarded in their name. The inaugural walk/run was a huge success and was supported by over 670 participants and over 60 local businesses. Scholarships in the amount of $500 each were awarded to four recipients who demonstrated attributes similar to those of Ryan and Max.
Our goal for this year is two-fold; to increase the amount of the scholarship and to contribute a portion of the proceeds to the contributing sheriff's departments and search and rescue teams. These people performed the difficult task of locating the airplane and recovering our loved ones.
To register:http://www.grantspassymca.org
Name:
Corvette Weekend ~ 28th Southern Oregon Corvette Association
Date: July 12, 2019 – July 14, 2019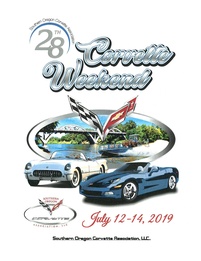 Friday July 12th – Registration, at Taprock Northwest Grill "Evergreen Room," Free Car Wash, Poker Chip Run, Blindfold Golf Cart Race Optional Wildlife Images tour (Dinner on your own.)
Saturday July 13th –Show & Shine, BBQ lunch, raffle prize drawings, Funkhana, optional scenic drive, Jet Boat Dinner Cruise, evening dessert & no-host bar after the Jet Boat Cruise. Economy Option – No Jet Boat Dinner Cruise, dinner on your own. The Evergreen Room at Taprock Northwest Grill (http://www.taprock.com) has been reserved exclusively for CWE Registrants. (You may order from the regular menu).
Sunday July 14th – Full breakfast buffet, Candlelighters Children Auction and Awards Presentation, farewells. Optional Wildlife Images tour. Jet boat heading down the Rogue River on the four-hour, 36-mile round-trip cruise through Hellgate Canyon, then back up river to the Hellgate River Lodge for a great BBQ ribs & chicken dinner with all the trimmings. www.hellgate.com All events centered around the Taprock Northwest Grill, Riverside Park and Event Center In beautiful Grants Pass, Oregon. http://www.visitgrantspass.org/
For hotel information and further deatils visit:http://www.sovette.com
Name:
Jazz Era Lawn Party
Time:
6:00 PM

– 9:00 PM PDT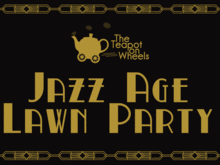 The Teapot on Wheels is having our first Jazz Era Lawn Party July 13th, 6:00pm – 9:00pm!
Our Jazz Era Law Party will be set in our beautiful riverside outdoor venue located at The Teapot on Wheels.
There will be live music, dancing, entertainment, photo areas, all you can eat food and lots of 1920's and 30's fun! Come dressed in your best 20's jazz outfit and get ready to party!
Upon entrance each party will be given a picnic box(es) with all your dishes, sliver ware and napkins. You will be directed to your reserved table where you will unpack your box and then go visit each food station and fill up your box to take to your table. Come hungry!  All you can eat!
Purchase your tickets 
HERE
 You will receive your tickets in the mail, and your name will be added to the list that will be checked upon your arrival.
This event is outside, feel free to bring a blanket for stretching out on the lawn.
Children must be supervised at all times.
Porta Potties and hand washing stations will be available.
No alcohol will be served at this event.
No dogs with the exception of A.D.A. service dogs.
No refund on tickets sold.
We strongly encourage you dress up in 20-30's era clothing however it is not required.

Name:
Business After Hours~Trendy Hair Salon
Time:
6:00 PM

– 7:30 PM PDT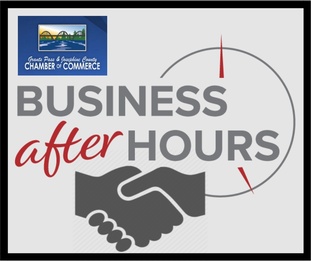 Trendy Hair Salon is celebrating their three year anniversary!
There will be a competition for the best "headwear." This includes- hats, headbands, etc. There will be prizes for first, second, and third place!
Business After Hours is a program through The Grants Pass & Josephine County Chamber of Commerce hosted by a different business/organization each month.
Join 60+ other business professionals for a casual networking opportunity with refreshments, tours of the facility, prizes, and information about your community.

Name:
Back to the 50's~29th Annual
Date: July 23, 2019 – July 27, 2019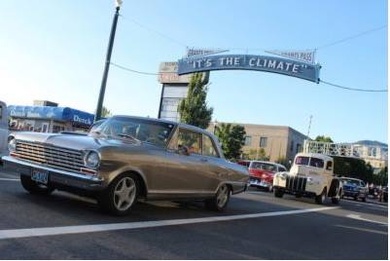 One of the biggest community events for Grants Pass and Southern Oregon! Join us for classic cars and 50s fun happening all week long!
Tuesday:  Concert in the Park
Wednesday: Sock Hop (Hosted by community members at Fruitdale Grange)
Thursday:  Dinner Night & Poker Run
Friday:  Classic Car Pre Show and Classic Car Line Up/ Classic Fifties Movie
Saturday:  Classic Car Show
Saturday Night:  Classic Car Cruise/ Plus Free Concert 9:00pm-11:00pm
Download Cruise and Car Show applications HERE