What's more Oregon than recreational activities? Doing them atop a mountain!
Mt. Ashland
The ski area was opened up in 1964 and has changed hands numerous times. Although the outlook for the ski-area has looked rocky at times, it has managed to sustain itself and provide many years of fun recreation for the residents of Southern Oregon and Northern California. Other popular activities at Mount Ashland include Mountain Biking, including a strenous 15-mile loop trail that is often biked in the summer.
Access to the summit is obtained by following a gravel road for about 1 mile past the ski-area parking lot and then hiking up a 4×4 trail/road for an additional 1.5 miles to the summit. Sitting atop the summit is a large white Doppler Radar which can be seen from many of the summits around this area.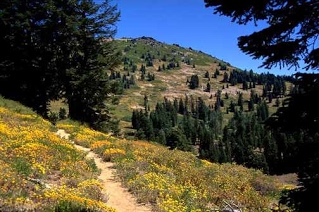 Winter
The Mt. Ashland Ski Area is located in beautiful Southern Oregon. We have a full rental shop (which offers ski and snowboard rentals and tuning), retail shop, and ski school. Our historic Lodge also features a full service Cafe and Bar. With average snowfall over 265″, it's been the place for Local Mountain Fun since 1964.
Ride the FREE Ski Hopper to and from Mt. Ashland this Winter
The 40-passenger Mt. Ashland Ski Hopper bus is scheduled to run when the most people visit Mt. Ashland. This season, we hope you'll take the Hopper and ride in style to and from the ski area. Featuring reclining seats and three video screens, this is the best way to get to and from Mt. Ashland.
It's FREE, so first come, first served. Reserve a seat and guarantee your seat on the bus at bit.ly/skihopper.
You can also call the Ski Hopper operator, Wine Hopper Tours, directly at 541-476-9463.
PLEASE NOTE the revised Ski Hopper Schedule, based on our later-than-expected opening date.

Emigrant Lake
Emigrant Lake Park, Campground and Waterslides
As one of Jackson County Park's most popular destinations, Emigrant Lake has it all. Located just minutes from downtown Ashland, Oregon, the park offers a host of activities for the entire family. Emigrant Lake is a local oasis nestled between the hills of Ashland and a great opportunity to get away from it all without having to go too far from home.  With 1467 expansive acres, including 12 miles of lake frontage, Emigrant Lake offers various recreational activities including RV/tent camping, fishing for bass, crappie, trout, boating, canoeing/kayaking, water skiing, swimming, picnicking, hiking, playing on the playground, or sliding down the refreshing 280-foot twin flume water slide.
Set up your family reunion, company party, school group function, or wedding reception at one of our four covered Group Picnic Areas. All areas offer electricity, tables, barbecues and nearby restroom facilities. Group Picnic Areas can accommodate from 125 – 300 people and are available to groups from 10 am to sunset. Whether you want to be close to the water, by the boat ramps, near the campground, next to the water slide or playground, one of our picnic shelters will be ideal for your group. Group Picnic Area Reservations are not required, but recommended, and must be made by phone through the Parks Office. Day use park fees are approximately $4 per vehicle. There are 3 boat put ins identified on the map.