A walk in Lithia Park:
Lithia Park stretches 93 acres from the downtown plaza up canyon toward the headwaters of Ashland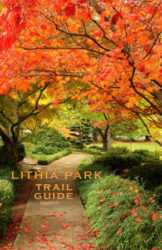 Creek on Mount Ashland. The forested park contains lawns, duck ponds, tennis courts, a sandpit volleyball court, picnic areas and playground equipment. Its name originates from lithium oxide which is found in the stream water. Last year, the American Planning Association named the park one of the top ten Great American Spaces.
Caldera Brewing Company
Caldera Brewing Company  is located in Ashland, Oregon, and is dedicated to producing uncompromised quality ales, lagers, sodas and cuisine. In 2005, Caldera became the first craft brewery on the West Coast to brew and can its own beer, helping to start a revolution. Today, six of Caldera's most popular beers are available in cans year round and four seasonals, with several more currently available in 12 oz and 22 oz bottles.
Caldera Brewery & Restaurant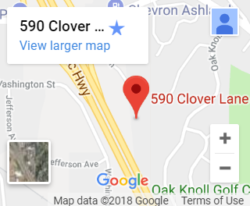 Happy Hour Monday – Friday 4 pm to 6 pm
Hours: 11 am – 9 pm daily       Phone: 541-482-HOPS
Reservations for parties of 8 or more
Caldera Tap House Restaurant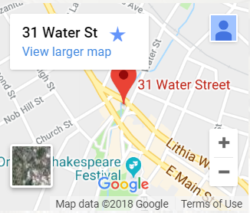 Happy Hour Monday – Friday 4 pm to 6 pm
Hours: Open at 2 pm daily           Phone: 541-482-PINT
Friday, Saturday and Sunday open at 11:30 am
No reservations
Blue Giraffe Spa
The Blue Giraffe is a beautiful boutique spa located just a few blocks from downtown Ashland. Offering both classic and contemporary spa therapies, including advanced medi-spa treatments.
Come find out why we've been voted Best Spa in Ashland since 2005.
The Blue Giraffe offers a full complement of salon services to help you look and feel great. Try a fresh new cut & color, or a luxurious manicure and pedicure, in our intimate hair & nail salon — all while enjoying a gorgeous views of Ashland Creek.
Lithia Artisans Market
Located on Calle Guanajuato along Ashland Creek, this picturesque venue is the perfect spot for artisans to exhibit and sell fine art and quality handcrafted work and interact directly with the public. Calle Guanajuato is a quaint alley located behind Ashland's downtown plaza between Winburn Way and North Main. It is adjacent to Lithia Park and near the Oregon Shakespeare Festival theaters.
Lithia Artisans Market of Ashland was established in 1993 when the Lithia Arts Guild of Oregon formed LAMA as a distinct entity with its own Board to promote the arts in the Rogue Valley. LAMA pays an annual fee to the Ashland Parks and Recreation Department for use of the Calle.

Jackson WellSprings
Come and enjoy a day of relaxation and healing at our spa. We offer a range of treatments to nourish the body and soothe the mind. Let us take you on a journey of deep relaxation and replenishment. Massage Services, Body Treatments, Facials, Sauna, Steam Room, Single & Double Jacuzzi. Our compassionate therapists provide a variety of experiences to suit your individual needs. Private events and Camping are also available on the site. 
*Summer: 8:00 am – Midnight, April 15-Oct 14
Winter: 10:00am – Midnight, Oct 15 – April 14
$10 adults : $8 seniors/students/ Discounts for monthly and yearly passes
• Ladies' Monday Night: 6:00 pm – Midnight (Girls under 12 are welcome until 9pm)
• Family Swim: Opening – Dark or 9pm (whichever is earlier)
*Children under 2 must wear a swimming diaper.
• Evening Swim: Adults Only/Clothing Optional – Dark  -Midnight
Belle Fiore
Just minutes from the exciting Shakespeare Festival in Ashland, Oregon, Belle Fiore Winery provides a magnificent Italian wine pavilion and Mediterranean chateau to enchant customers. Guests of Belle Fiore tasting rooms savor extraordinary wines and classic food pairings, enjoy live music nightly and winemaker paired dinners and stroll amid scenic gardens and vineyards.

Visit the Tasting Rooms at Belle Fiore's Wine Pavilion.  Surround yourself with old-world charm, beautiful Italianate architecture and stunning views while tasting from Belle Fiore's library of elegant wines.